---
In dit artikel ga ik in op de verschillen van de Endpoints van Forcepoint; Proxy Connect en Direct Connect.
De Proxy connect Endpoint maakt een verbinding met de cloud proxy van Forcepoint en gebruikt een PAC file om de browsers te configureren.
De Direct Connect Endpoint maakt een verbinding met de webserver van de website die je bezoekt en gebruikt geen PAC file.
Applicaties hebben soms problemen met PAC files. Omdat de Direct Connect endpoint geen internet proxy instellingen vereist, lost deze endpoint complexe routing problemen op.
Werking
Als een gebruiker met de Direct connect Endpoint verbinidng maakt met kanariepiet.com zal de endpoint dat rechtsteeks doen. Met de Proxy Connect Endpoint verbindt de machine met de Proxy Clusters in de cloud.
Het niet gebruiken van een proxy houdt in dat een gebruikers sneller kan internetten
Scanning
Proxy Connect Endpoint verkeer wordt inline gescand door de cloud proxy.
Met de Direct Connect Endpoint voindt scanning plaats nadat het het internetpakket is ontvangen door de machine, en is geupload naar de disposition server, wat er voor zorgt dat het in de meeste gevallen sneller functioneert.
Echter voor sites die door de disposition als malicious worden gekenmerkt worden via de dispostition server op proxy server in het cluster gescand, wat even goed voor een vertraging kan zorgen. (millisecondes)
Minder problemen
De Direct Connect Endpoint zorgt ervoor dat je niet tegen de problemen aanloopt die met een proxy vaak voorkomen. Redirects, authenticatie of routingproblemen.
Doordat de Direct Connect Endpoint rechstreeks met de publieke webserver communiceert is er geen proxy benodigd. Zoals in scanning besproken boet men wel in op wat veiligheid wat geborgd blijft bij het gebruik van inline scanning.
Onderstaande afbeelding toont een overzicht van Endpoint verkeer voor de Proxy Connect en Direct Connect.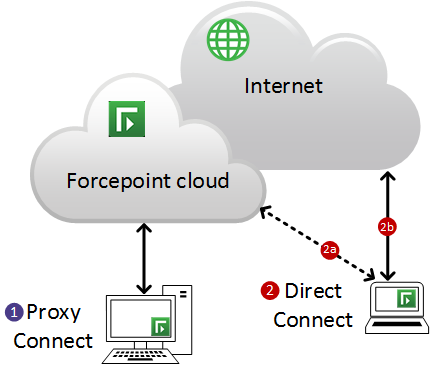 De afbeelding toont twee scenario's:
1: De proxy connect Endpoint stuurt al het webverkeer via de Cloud proxy. Als het verkeer is toegestaan verbindt de proxy met de webserver en stuurt de pagina door naar de client. Als het verkeer niet is toegestaan wordt een blockpagina getoond.
2A :De endpoint maakt verbinding met de cloud service en controleert de policy voor de bezochte website.
2B: Als de pagina is toegestaan, wordt de HTTP request omgeleid naar het internet. Als het niet is toegestaan wordt het HTTP verkeer naar de blockpagina omgeleid.
In de hybride omgeving kan met proxy of direct connect worden gewerkt, uiteraard kan er maar een type agent per client actief zijn.